The Greenroom: Reconsidering the Documentary and Contemporary Art
September 27, 2008 - February 1, 2009
CCS Bard Galleries and Hessel Museum of Art
Curated by Maria Lind with Fionn Meade and Milena Hoegsberg







Download exhibition publication here
Download exhibition checklist and gallery guide here
Press release

Documentary art works have played a defining role in art production of the late 20th and early 21st century. At the same time their status in an art context has been questioned. In the context of globalization, the representation of the real became once again an important problem in the field of art. Political and economical upheavals prompted a renewed interest for social reality and its documentary mediation. Furthermore, the failure of mainstream media to deal with current events in apropriate ways made documentary art practices take up a compensatory position. By merging with art traditions such as video-, performance- and conceptual art, documentary forms were reinvented and reinvigorated. A wide range of recent documentary works attests to a new diversity of forms, ranging from conceptual mockumentaries to reflexive photo essays, from split screen slide shows to found footage video reportage. Although innovative documentary art forms abound, little has been discussed and even less has been written about the contemporary boom of documentary forms. The Greenroom will address urgent questions about the history of documentary art forms in the context of globalising media and an expanding art world. It will investigate the relationship of fact and fiction, media and mediation, the question of archive and copyright, and the shifting role of documentary forms in the age of digital reproduction.

The Greenroom: Reconsidering the Documentary and Contemporary Art is the inaugural event of a long-term CCS Bard research project on "the documentary." The research project aims to investigate the heritage of documentary practices in contemporary art in relation to the history of film, documentary photography, television and video art, as well as to situate these contemporary documentary practices within current cultural production.

Peggy Ahwesh (New York), Chantal Akerman (Paris), Fikret Atay (Batman), Julie Ault & Martin Beck (New York), Yael Bartana (Tel Aviv), Petra Bauer (Stockholm), Christine Borland (Glasgow), Matthew Buckingham (New York), Gerard Byrne (Dublin), Nathan Coley (Glasgow), Annika Eriksson (Malmö/Berlin), Harun Farocki (Berlin), Omer Fast (New York), Andrea Geyer (Freiburg/New York), Carles Guerra (Barcelona), Emily Jacir (Ramallah/New York), Amar Kanwar (New Delhi), Klub Zwei (Vienna), Joachim Koester (Copenhagen), Nestor Kruger (Toronto), Marysia Lewandowska (London), Julia Meltzer & David Thorne (Los Angeles), Carlos Motta (Bogota/Brooklyn), Deimantas Narkevicius (Vilnius), Rosalind Nashashibi (London) and Lucy Skaer (Glasgow/Basel), Olivia Plender (London), Walid Raad (New York), Mark Raidpere (Tallinn), Michael Rakowitz (New York/Chicago), Inta Ruka (Riga), Natascha Sadr Haghighian (Berlin), Anri Sala (Tirana/Berlin), Katerina Seda (Brno/Prague), Solmaz Shahbazi (Tehran/Stuttgart), Stephen Shore (Tivoli, NY), Simon Starling(Glasgow/Copenhagen), Hito Steyerl (Vienna/Berlin), Rirkrit Tiravanija (Buenos Aires/Bangkok/New York/ Chiang Mai), Gitte Villesen (Copenhagen/Berlin).

The exhibition also includes a selection of works from the Marieluise Hessel Collection, including work by: Tina Barney, Bernd & Hilla Becher, Vanessa Beecroft, Joseph Beuys, Christian Boltanski, Manuel Alvarez Bravo, Sophie Calle, Larry Clark, Valie Export, Saul Fletcher, Günther Förg, Nan Goldin, Felix Gonzalez-Torres, Jitka Hanzlová, Mona Hatoum, Jenny Holzer, Mary Kelly, Lisa Kereszi, Louise Lawler, An-My Lê, Ana Mendieta, Enrique Metinides, Boris Mikhailov, Gabriel Orozco, Jack Pierson, Martha Rosler, Lise Sarfati, Cindy Sherman, Kiki Smith, Karlheinz Weinberger, and Kohei Yoshiyuki.

Exhibition reviews:
Artforum
Modern Painters
Chronogram


Screenings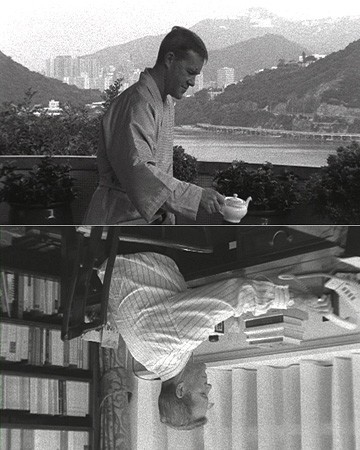 Ambassador
(2004)
Program 1: Tuesday, May 27, 6:30-8:30pm
Yael Bartana, Mary Koszmary (2007, 11 minutes)
Nashashibi/Skaer, Ambassador, (2004, 5 minutes)
Matthew Buckingham, Situation Leading to a Story (1999, 21 minutes)
Chantal Akerman, D'Est: Au bord de la fiction (1993, 110 minutes)

Yael Bartana, Mary Koszmary (2007, 11 minutes)
Recently commissioned by the Foksal Foundation and Hermès, Mary Koszmary considers the complex legacies and realities of European anti-Semitism and xenophobia. A young man, played by Polish leftist author and politician Slawomir Sierakowski, enters an empty stadium and entreats the three million Jewish Poles who left Poland to return to their homeland while a troupe of Boy and Girl Scout-like youths stencil a message of hope for reconciliation across the stadium floor.



Nashashibi/Skaer,

Ambassador

,

(2004, 5 minutes), 2-channel installation
Playing with the rules of ethnographic framing, this monochrome study of the British Consul moving about his Hong Kong residence presents the enigma of a representative figure within an un-exoticized, quotidian context.

Matthew Buckingham, Situation Leading to a Story (1999, 21 minutes)
Buckingham uses the cinematic space of film and video to stage personalized narratives that question the relationships between the living presence of the viewer, the phantasms of history, and the politics of institutions, archives, and cultural memory. Situation Leading to a Story recounts and complicates the artist's having found four amateur movies dating from the 1920s in an abandoned box on a New York street.

Chantal Akerman, D'Est: Au bord de la fiction (From the East: Bordering on Fiction) (1993, 110 minutes)
D'Est retraces a journey from the end of summer to deepest winter, from East Germany, across Poland and the Baltics, to Moscow. It is a voyage Akerman wanted to make shortly after the collapse of the Soviet bloc "before it was too late," reconstructing her impressions in the manner of a documentary on the border of fiction. By filming "everything that touched me," Akerman sifts through and fixes upon sounds and images as she follows the thread of a subjective crossing.



Anri Sala,
Dammi I Colori, 2003
Program 2: Wednesday, May 28, 6:30-8:30pm
Anri Sala, Dammi I Colori (2003, 16 minutes)
Harun Farocki, Workers Leave the Factory (1995, 36 minutes)
Hito Steyerl, November (2004, 25 minutes)
Julia Meltzer and David Thorne, We Will Live to See These Things or Five Pictures of What May Come to Pass (2007, 47 minutes)

Anri Sala, Dammi I Colori (2003, 16 minutes)
Dammi I Colori accompanies artist and Mayor Edi Rama on a slow tour of Tirana, attentive to Rama's ongoing narration as the camera visits various projects throughout the city that attempt to offer a new direction for its residents, including the geometrical painting in rich and primary colors of various housing complexes in the most impoverished areas.

Harun Farocki, Workers Leave the Factory (1995, 36 minutes)
"Workers Leaving the Factory" was the title of the first cinema film ever shown in public. For 45 seconds, workers at the photographic products factory in Lyon, owned by the brothers Louis and Auguste Lumière, hurry out of the shadows of the factory gates and into the afternoon sun. But where are they rushing? In his documentary essay, Harun Farocki explores variations upon this scene right through the history of film, exploring how the space before the factory gates has always been the scene of contested social conflicts and narratives.

Hito Steyerl, November (2004, 25 minutes)
A short film loosely based on the life of Steyerl's close friend, Andrea Wolf, who, prior to her assassination as a suspected Kurdish terrorist in 1998, was accused of being a member of the Red Army faction in Germany. November is an elegy to a distant friend, an essay on the construction of mythic identities, and a commentary on the defunct ideologies of revolution.

Julia Meltzer and David Thorne, We Will Live to See These Things or Five Pictures of What May Come to Pass (2007, 47 minutes)
Shot in 2005–06 in Damascus, Syria, We Will Live deals with competing visions of the future. Each section—the chronicle of a building in Damascus, a recitation anticipating the arrival of a perfect leader, an interview with a dissident intellectual, a portrait of a Qur'an school for young girls, and an imagining of the world made anew—offers a different perspective on what might happen in a place caught between the competing forces of a repressive regime, a growing conservative Islamic movement, and intense pressure from the United States.



—Fionn Meade





Copryright Fionn Meade unless otherwise stated