Raspberry Cargo: Duane Linklater
Family Business, New York
October 2012

Ontario-based artist Duane Linklater collaborated with CCS Bard graduate students at the invitation of CCS faculty and curators Fionn Meade and Tirdad Zolghadr as the exhibition aspect of first-year practicum. The installation, Linklater's Bard MFA thesis project, included related programming organized by the curatorial team. Graduate students involved included Carla Acevedo-Yates, Lindsey Berfond, Sabrina Blaichman, Thiago Carrapatoso, Malene Dam, Victoria Ivanova, Andrew Kachel, Clara López Menéndez and Nicola Ricciardi.

This exhibition was hosted by Family Business, founded by Maurizio Cattelan and Massimiliano Gioni.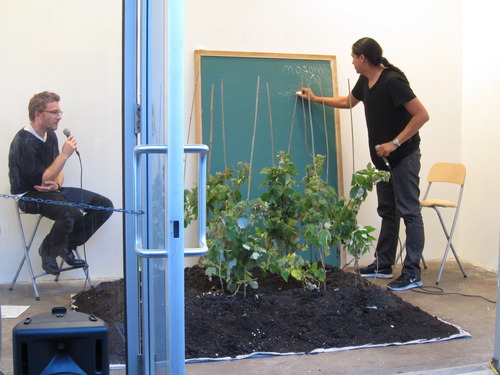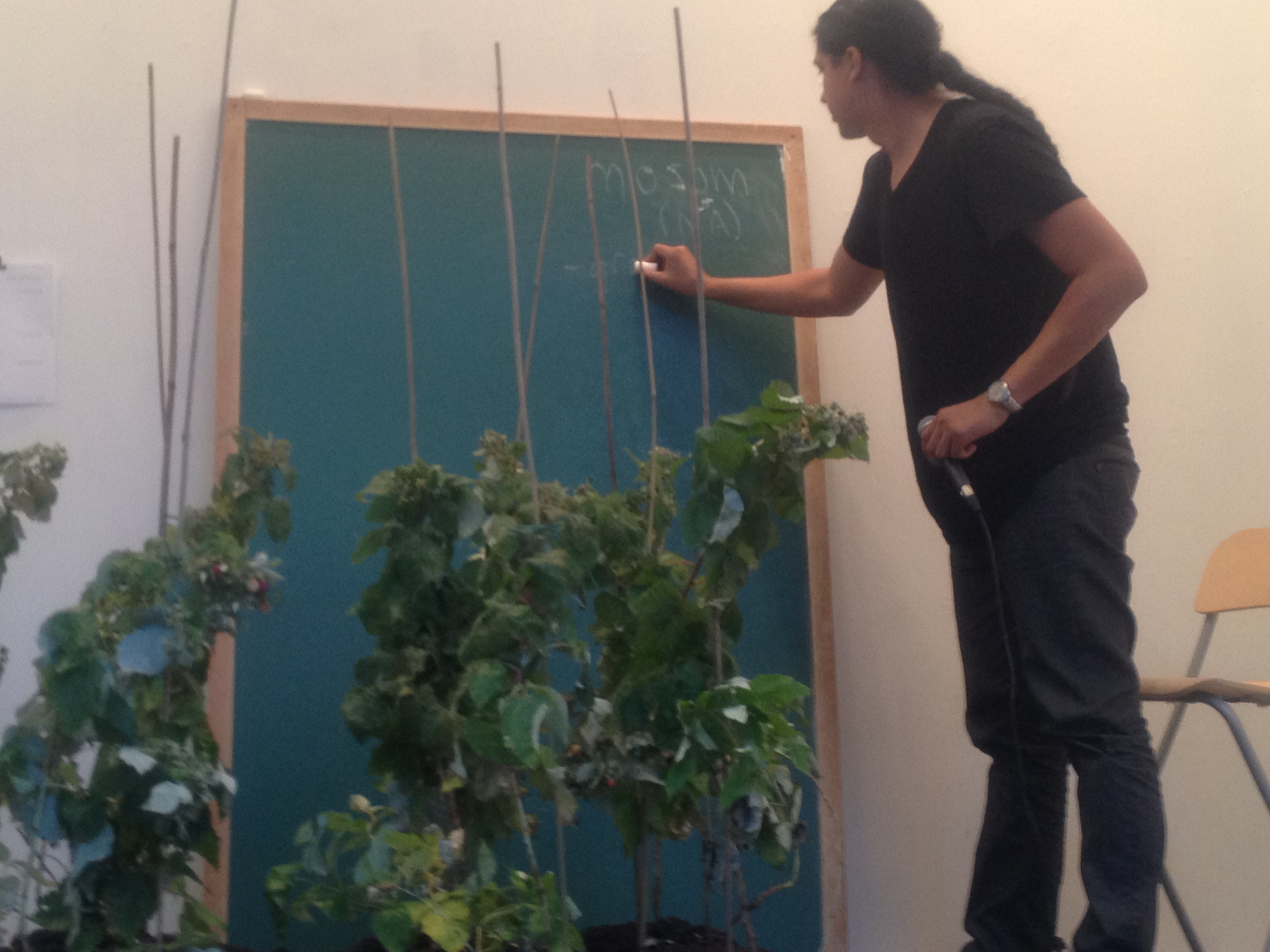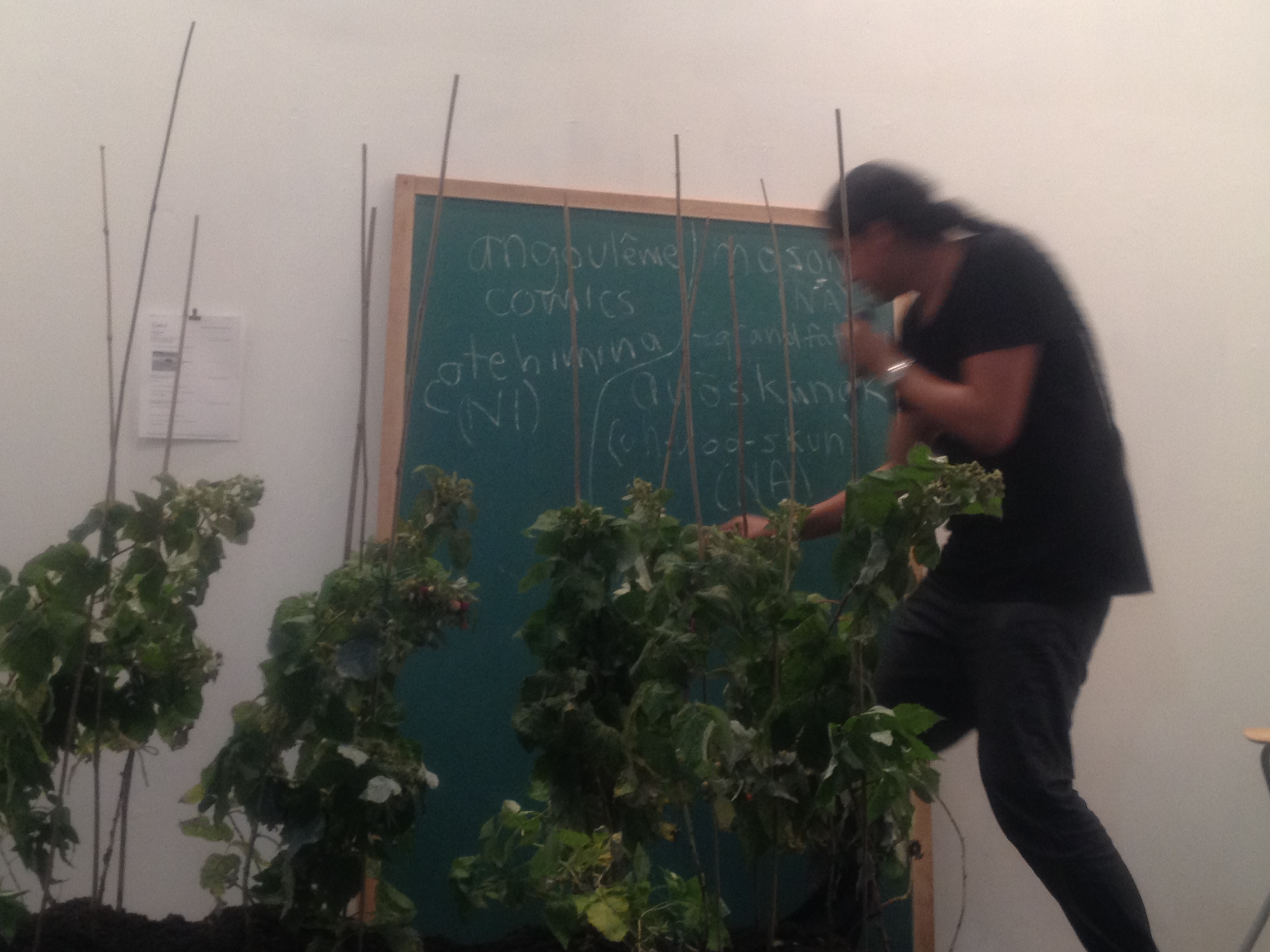 Raspberry Cargo

Ayôskan (Cree) Raspberry (English)
Otêhimin (Cree) Strawberry (English)

[Cree translation courtesy of Nehiyaw Masinahikan, Online Cree Dictionary]

Cree defines nouns as being animate or inanimate. There is no distinct rule governing the classification of animacy or inanimacy, rather, it is learned through immersive language acquisition. [Ahenakew, Freda, Cree Language Structures: A Cree Approach. Pemmican Publications Inc., 1987, Wikipedia]

Review of Raspberry Cargo by Katy Diamond:

On view at Family Business is "Raspberry Cargo", a solo exhibition by Duane Linklater, curated by a team of graduate students enrolled in Curatorial Studies at Bard College. Duane Linklater is an artist from Canada who recently completed his MFA at Milton Avery Graduate School of the Arts at Bard. His work has been included in international solo and group shows, most recently a collaborative project with Brian Jungen as part of dOCUMENTA (13) in Kassel, Germany. For "Raspberry Cargo" the artist has chosen to install a selection raspberry bushes in the small interior of the gallery along with a printed email and chalk board leaning against the back wall. Raspberries? At first glance, the plants may not appear to be special and in fact aren't. They are simple, leafy green plants with berries in various stages of ripeness. During the opening, most of the red berries were eaten and those which currently remain are a pale, cricket green. Why the artist, who is of Cree descent, elected to plant raspberries is a distinct choice relating to the language of his ancestry. Cree is an Algonquian language originating in the Northwest Territories of Canada. One of the distinct characteristics of the language is the identification of objects based on the cognitive understanding of a word itself. In Cree, raspberry (ayôskan) is considered to be animate while strawberry (otêhimin), a similarly sweet, seeded fruit, is deemed inanimate. The comprehension of raspberry as animate places the fruit within a particular spiritual context. It is this linguistic, metaphysical exploration that the artist chooses to reveal in the most simplistic of visual formats. The words strawberry and raspberry are written in Cree on the chalkboard within the space, but without the counterparts of English translation, symbolic in nature rather than didactic. For Linklater, his is the conceptual documentation of semiotics and a historical divide between culture and it's symbiotic relationship to land. One of the participating curators, Victoria Ivanova, described the exhibition as below:

"[Raspberry Cargo is] temporal in dimension, creating a tension between the creative and curatorial connection. [It considers] compromise and an agenda similarly dealing with negotiation and social introspection."



--Katy Diamond Hamer













Copryright Fionn Meade unless otherwise stated