Radical Presence: Related Programs

This series of programs was presented in conjunction with Radical Presence: Black Performance in Contemporary Art

Walker Art Center
July 24, 2014 - January 2, 2015
Coordinating curator for the Walker Art Center: Fionn Meade



Community performance of Terry Adkins The Last Trumpet (1995)
July 24, 2014
Twin-cities-based musicians perform the late Terry Adkins' The Last Trumpet—a sound-activation piece made of four 18-foot-long brass horns called Akrhaphones.
Jacolby Satterwhite
Orifice
July 24, 2014
Jacolby Satterwhite's vogue-style activation of Orifice (2010–2012) included the artist in a full-body costume with iPod, iPad, and iTouch attachments.
Maren Hassinger performs with R.S.V.P. by Senga Negudi
July 26, 2014
Senga Nengudi's action-based hanging sculpture Untitled (RSVP) (2013) was performed by longtime collaborator and artist Maren Hassinger. Through sets of choreographed actions, Hassinger stretches nylon stockings filled with sand into surreal and distended shapes, animating these sculptures that suggest shed skins and contours of the human body.

Jamal Cyrus Texas Fried Tenor (2012)
July 26, 2014
Jamal Cyrus's Texas Fried Tenor (2012), is a live performance in which the artist demonstrates how to bread and deep-fry a saxophone. He creates a new musical score and aural experience by amplifying the sound of grease in a fryer and reciting a recipe/poem. Musically, Cyrus draws on avant-garde movements of the 1960s, including improvisational jazz techniques and Fluxus-like experiments.

Maren Hassinger Women's Work (2006)
July 26, 2014
Women's Work (2006), is a meditative performance in which she and others repetitively manipulate newspaper, alluding to sewing, knitting, and other forms traditionally labeled women's work.
Pope L. Costume Made of Nothing
performed by Brian J. Evans
September 4- December 6, 2014
Costume Made of Nothing is a performance created by the artist Pope.L It debuted at the Contemporary Arts Museum Houston (CAMH) in 2012 and its iteration at the Walker Art Center involved a weight-bearing structure and revised chreography. The performance took place in the exhibition galleries, thirteen times over the course of the exhibition's five-month run.
Benjamin Patterson
performance of A Penny for Your Thoughts
October 19, 2014
and
Walker Art Center Teen Programs performance of Pond (1962)
October 19, 2014
and
Holding Court: Benjamin Patterson
October 10, 2014
Benjamin Patterson is known as a key figure in the international experimental artists' network Fluxus, which was most active in the late 1950s and early '60s. His highly influential practice—combining music, visual arts, and performance—is aligned with the Fluxus ethos, which challenged traditional art-making modes. Its members pursued a variety of experimental practices, foregrounding the use of everyday materials and gestures, live action, and chance, as evidenced in Pond (1962). The conversation with Patterson included such topics as Fluxus and how his work had been received and circulated within a larger narrative in Europe and the United States.
Ralph Lemon: Holding Court
September 17, 2014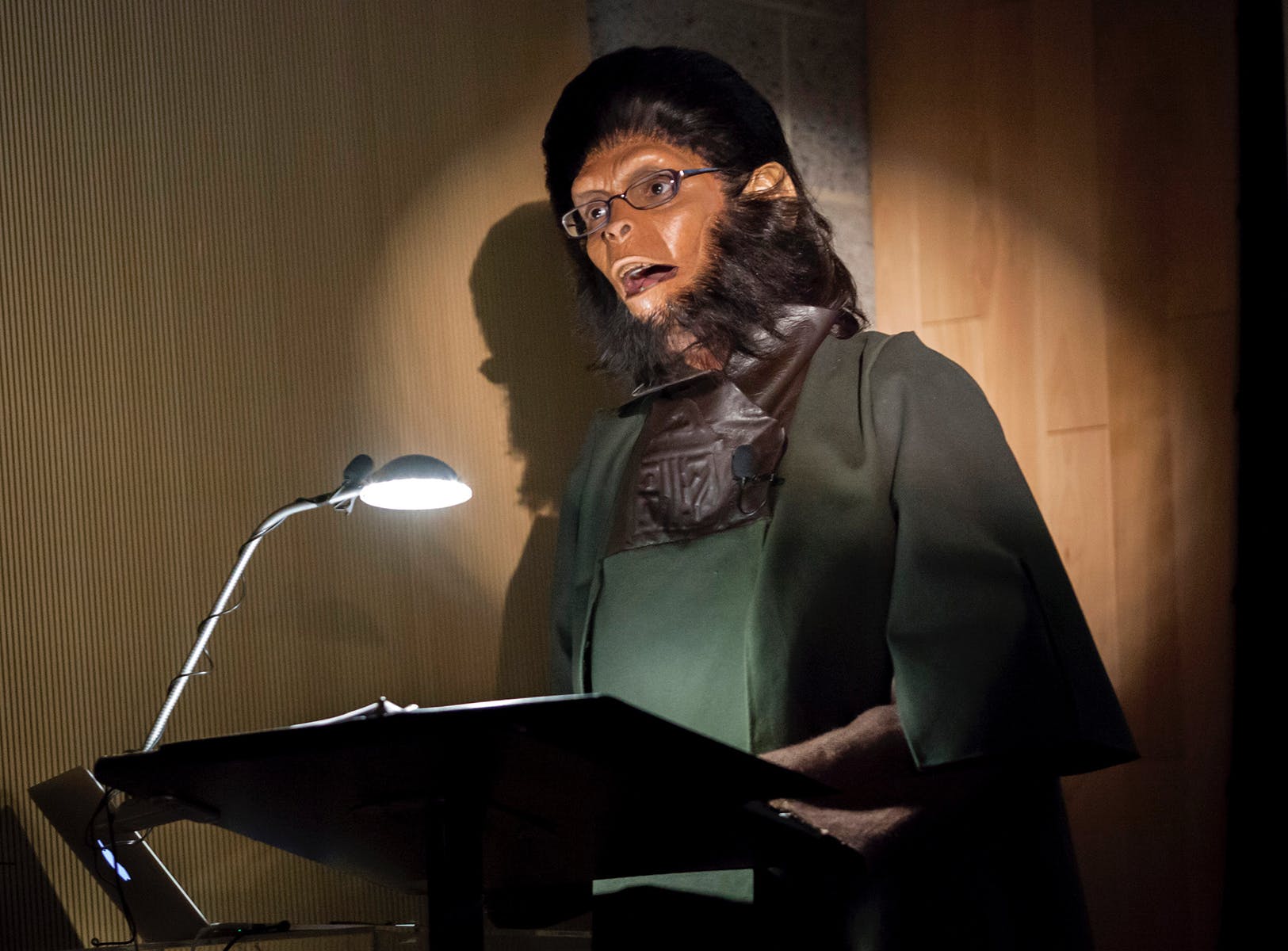 Coco Fusco
Observations of Predation in Humans: A lecture by Dr. Zira, Animal Psychologist.
and
Holding Court: Coco Fusco
November 6, 2014
Coco Fusco performs her work of Observations of Predation in Humans: A lecture by Dr. Zira, Animal Psychologist in which Fusco personifies Dr. Zira—a chimpanzee psychologist who studies human behavior in the 1968 movie Planet of the Apes—taking a look at economic violence from an evolutionary perspective.

Holding Court: Theaster Gates
November 18, 2014
Theaster Gates's See, Sit, Sup, Sip, Sing: Holding Court (2012) was created using chairs, chalkboards, and other materials pulled from a now-closed school on the South Side of Chicago, Crispus Attucks, named after the first martyr of the American Revolution. The artist created a new experience for learning by inviting visitors to assemble at the table and provoking conversation. Gates "held court" to ask and respond to difficult questions about the function of museums and artists.
Holding Court: Congressman Keith Ellison
December 6, 2014
For the final activation of Holding Court Minnesota Congressman Keith Ellison discusses the efficacy of art to produce social change and the art institution's role towards activism and within the broader community.
Trenton Doyle Hancock's Devotion (2013)
December 11, 2014

In Devotion (2013), Trenton Doyle Hancock brings to life a mythical creature called the Mound—alternating between hymnal singing and Jell-O feedings in this performance that asks viewers to consider what it means to be devoted to an idea or vision.


Images © the artists and Walker Art Center
Copryright Fionn Meade unless otherwise stated