Grand Openings
SculptureCenter, Long Island City
September 13 - November 30, 2009

Ei Arakawa, Jutta Koether, Jay Sanders, Emily Sundblad, Stefan Tcherepnin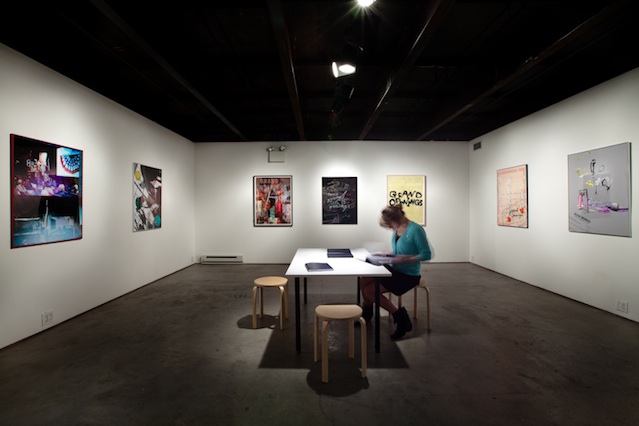 Founded in 2005 by Ei Arakawa, Jutta Koether, Jay Sanders, Emily Sundblad, and Stefan Tcherepnin, Grand Openings is a cooperation of artists working in different disciplines uniting performance, acting, singing, painting and critique. They create a mise-en-scène of overlapping actions, loosely defined choreography and chaotic structures with multiple identities and often dissonant iterations.

Readily shifting between a multimedia event, an entertainment, a learning experience, and a kind of disorderly order to be encountered by viewers and participants, the exhibition at SculptureCenter presents a series of unique posters and a limited edition Grand Openings publication. Documenting public performances and privately staged actions, the installation acts both as an archive of the collaborative group's past and a preview or diagram for future scenarios. By also exploring how their performances can take the form of printed matter, Grand Openings continues to challenge the presumed roles of performers, producers, directors, and observers. A limited edition publication documenting the history of Grand Openings accompanied the exhibition.
Copryright Fionn Meade unless otherwise stated