Another Country
By Fionn Meade
essay contribution to
Anamericana American Academy, Rome supported by the Depart Foundation
curated by Vincenzo de Bellis
October 3 – November 14, 2013


We ought to say a feeling of and, a feeling of if, a feeling of but, and a feeling of by, quite as readily as we say a feeling of blue, a feeling of cold.
- William James, Principles of Psychology, 1890(1)

When turn of the twentieth century American philosopher William James writes of "the feeling of by" and "the feeling of if" his is an emphasis upon the relational mode of experience, staking out interpretation as active, anticipatory, and shifting rather than structured according to inherited conventions to be held up to the mirror of reality. The conjunctive imperative that runs through James' pragmatism can be traced to the semiotic philosophy of his contemporary Charles Sanders Peirce but continues to flow right through to the cultural present of American culture. In James' well-known passage, the conjunctive register is one of possibly coming too close, of risking transference, even contagion, of becoming habituated to and even accepting the validity of affective knowledge.

"There is not a conjunction or a preposition, and hardly an adverbial phrase, syntactic form, or inflection of voice, in human speech, that does not express some shading or other of relation which we at some moment actually feel to exist between the larger objects of our thought."

And so it is in American art. Room is made for the feeling of blue, for the shades of grey and the pleasures of contradiction, for the immediacy of things and the generosity of estrangement. From Jasper Johns oft-quoted sketchbook note ''Take an object. Do something to it. Do something else to it" to Gertrude Stein's "Everybody is a real one to me, everybody is like some one else too to me… and so I write for myself and strangers,"(2) American sensibility exists to be reworked, revised, opened up, tipped over, split open, and found ever aspiring. Restive and nervy even in its assured styles, American culture is enamored with its capacity for perceived renewal. Indeed, the restless empiricism of American culture that William James writes so eloquently of needs and welcomes Stein's self-exiling "and" and "like" as much as Johns' "do" and "take." American culture prides itself on such contradictory and syncretist leanings as "a feeling of but" and "a feeling of by."

To look at work from thirty-one artists working in the United States, largely via works produced in the past five years, is to encounter just such variation of sensibility as the exhibition title Anamericana implies—the "present" in American culture embraces shape-shifting on a recurrent basis. Over the past fifteen years, this includes a departure from the criticality of such 1980s and '90s terms as appropriation and institutional critique. No longer hemmed in nor faithful to such exclusive narratives, the range of artists included in Anamericana do not fit neatly into "third wave" postmodern arguments of criticality. The unruly digital expanse of the "photographic" has left the boundaries of photography's discourse long ago, just as the place of painting is no longer based in endgame strategies, and the presence of surveillance and its punitive repercussions are now embodied, networked, and connotative rather than accounted for by journalistic or documentary tactics within artistic practice. In short, the versioning of American art is unmoored from any predominant or hierarchical critical discourse, and all the more recombinant as a result.



Jon Rafman, East Village, New York, USA, 2012, 40 x 64 inches / 101.6 x 162.5 cm, C-print on Dibond

One important effect arising from the image-based relativism of a networked culture that promises information and access to all corners of the globe is the revision of what a surveyable world might be. As Jon Rafman's c-print enlargements from Google Street View image captures indicate, the once panoramic urge toward a nationalistic purview that could look out over its domain has been replaced with a composite vision. Data visualization and the composite image of surveillance now promise all the byways of the world as accessible and scripted for future speculation or dismissal. With Rafman's 9-eyes.com website—named after the nine camera poles that adorn hybrid Google Street View vehicles—images are blown up from camera views around the world. Displayed as photographs, East Village, New York, USA, 2012 and Longleat House, Horningsham, Wiltshire, UK, 2012, for example, show how the surveying impulse has embedded itself in the city and well beyond, assessing legal boundaries and picturing the limits of civil society.



Edward Ruscha, Rooftops, 1961, 31.25 x 31.25 inches each / 79.4 x 79.4 cm each, Silver gelatine prints Set of 4 prints

Long before the roving fleet of Google cars mined by Rafman, however, Los Angeles-based artist Ed Ruscha captured the banality and redundancy of a promised utopia in the postwar boom of the West Coast of the United States. Predating his much-lauded Twentysix Gasoline Stations, 1963, Ruscha's set of four prints included in the exhibition here, "Roof Top Views," 1961/2003, show largely vacant, unfrequented streets shot askew from rooftop vantage points above the streets. The suburban vision of a booming car culture is rendered melancholic and depleted by Ruscha. Contrasted with images taken in Italy the same year—like Florence, Italy, 1961, and Brindisi, Italy, 1961, which feature street bustle, patina, and proximity—the manicured vision of billboard campaigns, new cars, freeways, and cul-des-sac freedom is vertiginous and nearly sinister in Ruscha's viewfinder. That the artist would revisit and show the images in 2003 speaks to and cautions a surveying impulse within American culture that Google Street Views succinctly epitomizes—optimism and control inextricably intertwined. The implied coercion of Rafman and Ruscha's seriality finds a visceral counterpart and extension in works by Oscar Tuazon, Wall, 2009, and Sterling Ruby, Supermax Wall, 2006, in the exhibition. Both confining sculptures appear as semi-transparent excerpts from the glut that is the unparalleled industrial complex of detention and imprisonment in the United States, stark metaphors of the anonymity of punishment in American culture.



Oscar Tuazon, Wall, 2009, 95 5/8 x 87 3/4 x 39 1/8 inches / 243 x 223 x 99.5 cm, steel, Plexiglas, glass, silicone, paint

The persuasion of Seth Price's vacuum-form works includes molding over a gamut of body parts and objects, from breasts, faces, and hands to bomber jackets and ropes. The packaging and withholding impression of online consumerism makes the parceled out body appear as a series of impressions become units ready to be shipped off anywhere in the world, like a disposable phone. Left with the imprint and illusion of product packaging, Price offers up for the viewer images of emptied out bodies to be projected onto. The nostalgia of a bomber jacket imprint, for example, is at odds with the year that accompanies it, de-periodizing the nostalgic pleasure a viewer might identify with the iconic bomber jacket and an idol like James Dean, for instance. Similarly, a length of rope—used to bind, tie, hang, fray, or measure—becomes a repeated motif in Price's relief images, appended on top as a readymade loop bearing the Duchampian chance composition of where it falls while, conversely, the form's imprint at the moment of vacuum-forming is a remnant of the rope's absence and removal. The moment of formatting becomes the aesthetic gesture. Price's use of the vacuum-form mimes the removed status of the desired consumer object (safeguarded and ready for distribution), while giving contour to the mobility and de-centered place of popular iconography in contemporary culture.



Seth Price, Untitled, 2009, 96 x 48 inches / 243.8 x 121.9 cm, Vacuum formed high impact polystyrene with ropes


Format literally becomes content in the process adopted by Price as the look of industrial packaging is transposed into the illusionistic space of painting. As with Untitled, 2009, a thin, translucent high impact sheet of polystyrene bears the imprint of a removed rope beneath the surface while a gestural knot of rope is affixed on top. Form asserting itself as content takes a different turn in John Henderson's Cast, 2012, whereby the formatting and transposition of previous painting gestures are morphed into a casting of the pocks, runnels, and scratched raises of a painted surface. A composite relief—half bronze, half brass—the solidity, shine, and projected value of casting materials compete for primacy with the detailed capture of impasto and smear. Henderson's expressive mark is made residual and removed. Employing yet another image transfer process, Henderson's seductive surface is structured through absence, not unlike Price's work, with the facture and build-up of his initial mark making transposed into an imprint.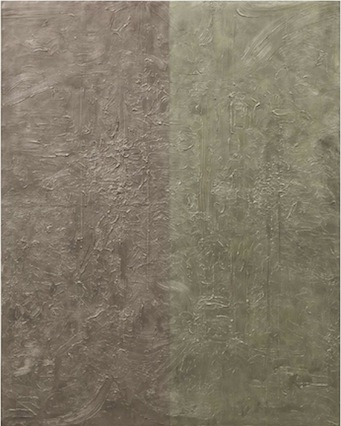 John Henderson, Cast, 2012, cast bronze and brass, 60 x 48 inches / 152,40 x 121,92 cm, Unique


The layered impressions within Oscar Murillo's paintings maintain more of an immediate, bodily process as the studio floor plays a key role in what could nevertheless be seen as a rudimentary, even archaic form of image transfer. Layering oil paint and oil stick into sections of canvas, Murillo folds the surfaces in half and leaves them to be walked on, stained, dirtied, and traced by the shuttling about of the artist and his visitors. Finished off with subsequent layers of oil stick and spray paint, raw swaths of unprimed canvas are grubbed up below, receding into under-layers along the way. Providing a sense of discarded or incidental depth reminiscent of a drop cloth, the under-layer of Murillo's Untitled drawing off the wall, 2011, for instance, typifies a loose, inclusive approach to abstraction that maintains an embodied gestural emphasis reminiscent of urban graffiti as well as Twombly-like mythification.

The implicit functionality of Aaron Bobrow's, Brook Street (Reggie), 2012, meanwhile, adopts the immediate familiarity of a work tarp stretched into the conventional position of a painting support. Employing new and used nylon and polyethelyne tarps, the blue and green work surfaces become monochromes bearing the marks of wear and tear or the folds and nicks of shipping and handling when bought online. Often used for provisional shelter or to contain workloads, the stopgap quality of the synthetic tarp is universal, allowing Bobrow a succinct collapsing of readymade and monochromatic abstraction. The wrap of Tom Burr's fabric paintings is both more intimate and removed in comparison. Pinned up with upholstery tacks, wool blankets are stretched and seamed into suggestive ridges, flaps, and folds in the ongoing series. Orderly creases imply that the blanket used in Loose Blue Coveralls, 2012, has been cleaned or never used, like a bolt of fabric taken directly from a textile store. Tack lines reinforce the folds. A flap held fast from the upper right corner shows the black plywood beneath, animating a crisp air of tailoring and couture. Competing with the association of a blanket wrapped around the body for warmth, Burr's sartorial works bring to mind an awareness of German "stoffbilder" or fabric paintings that extends form Sigmar Polke's early paintings on cheap fabrics and Blinky Palermo's fabric works from the mid-1960s and the early '70s through to Cosima von Bonin's use of blankets and assorted textiles. Burr mixes cool, soft, and visceral effortlessly while imbuing the genealogy of fabric painting with newfound psychological vulnerability.




Sam Falls, Untitled (Pots, Yellow), 2013, 55 x 44 inches (image size), 139.7 x 111.8 cm, Acrylic on archival pigment print


In New York-based painter Joe Bradley's modular rectangle works, including Tonga, 2007, compositions are stacked and assembled into anthropomorphic stances, jokey and sever at the same time. Alongside the 2008 "Schmagoo" series of black oil stick on raw canvas paintings that followed—depicting comically reduced yet archaic symbols like a cross, fish, a supine stick figure, a superman "S" insignia—and the large-scale, scuffed and patchy yet color saturated abstractions that have followed since then, Bradley's twists are indicative of a generational willingness to indulge and try on different attitudes and readily shed stylistic skins with relative impugnity in regards to perceived rules or conventions of abstract painting. Similarly, many younger artists using photography who might have been previously received as trafficking in the criticality of pictures, are more accurately working from the "photographic," a mobility that readily extends via digital means into video, printmaking, painting, drawing, sculpture, and beyond. Los Angeles-based artist Sam Falls is exemplary of a younger artist who crosses mediums and formats while continually mining printing and transfer techniques based in photographic tropes and digital printing. Untitled (Pots, Yellow), 2013, and Untitled (Pattern 3), 2013, showcase such a digital horizontality as Falls flirts with still life conventions and painterly abstraction without blinking. Sometimes borrowed, sometimes shot by the artist, sometimes scanned, Falls regularly uses the photographic image not as an endpoint of representation but rather as an entry point or substrata for painting, design, and installation approaches that seamlessly adhere to a wide-ranging array of subjects—from landscape and celebrity to architecture and advertorial products.

The pliable images of Valerie Snobeck likewise mix photographic and print-based transfer processes—frottage, peeled images on and from plastic and laminated sheets, partially removed mirror applications—to create transparent yet materially incidental and corporeal image forms. Without Reverb, 2012, crumples into the place of discarded abstraction, partially pulled from a mirror's applied surface to be bracketed into the place of abstraction. Punctuating sculptural structures and frames that recall temporary boundaries and supports from the built and industrial environment, including the mesh cover of scaffolding or the provisional heft of a pallet, Snobeck pulls residual imprints of digital imagery into a fragile circulation. Departing from the anxiety of culturally specific reference, the photographic fragments that remain in Snobeck's work are untethered, optical scrims cordoned off from pictorial duty.




Left: Roe Ethridge, Boat Interior, 2004, 40.51 x 32.08 inches / 102.9 x 81.5 cm, C Print. Right: Dawn Patrol, 2008, 60 x 40 inches / 152.4 x 101.6 cm, C print.

An implication of much of the photographic work included in the exhibition includes a dramatic shift away from the allegorical procedures central within American photography-based work from the 1980s and '90s in the United States. The highly influential work of Roe Ethridge over the past decade shows the distance, as his editorial talent for juxtaposition and sequence ranges from various product and fashion shoot setups to the everyday glow of a pink rose or the awkward lean of a mop. Casually poetic and highly professional, Ethridge balances spontaneity and staging to blur the boundary between a product sheen and documentary look. The photographs are equal parts casual charm and high-end glamour. By re-directing the neutralized, flattened-out imagery of stock image desire, Ethridge has circulated the recent past as a collage of period effects, influencing a whole new generation of artists skilled in Photoshop and digital montage. In contrast with Tumblr, Instagram, and the sortable image archive effect of the Internet—and the increased familiarity with sequencing, batching, and ganging images together that comes with these applications—the ways to interrupt the reception of images and create an alienating or distancing effect are more difficult in contemporary culture. With Ethridge the rupture of montage seems comfortable like flipping through a magazine or a Google image search, only to unfold quietly into an elegiac register. Never reading left to right, Ethridge's installations manage an uncanny montage of relaxed poses, familiar gestures, favorite object and things mixed with romantic vistas. Taken together they seem to depict a receding idyll of contemporary American life, a pleasure in products, things, and clichés that is perhaps increasingly unavailable. Dawn Patrol, 2008, and Boat Interior, 2004, for example, dwell on colorful images of good surf and the impending time away of a fishing trip even as they exude a low-key melancholia, time slipping away. Ethridge's version of the American pastoral seems as if it may have only been imagined and longed for rather than experienced.



Uri Aran, Dear Tenants (B), 2012, mixed media, wall piece: 48 x 96 inches / 121.9 x 243.8 cm, framed drawing: 18 1/2 x 23 1/2 inches / 47 x 59.7 cm

Text usually pins down even a cliché or romanticized image, making it perform as an embedded illustration or product—journalistic, caption-like, labeled. The instrumentalizing of image by language in the work of Uri Aran, Frances Stark, and Carter Mull, however, returns us to the estranging impulse that Gertrude Stein honors, ensuring that the detours and abrupt substitutions of American storytelling are alive and well. In Aran's sculptural wall configuration, Dear Tenants (B), 2013, on view in the exhibition, fragmented and partially effaced textual loose ends with foreboding and moralistic tones such as "we knew then & there" or "in the end, I guess, I learned such a great lesson" are scrawled out faintly in handwritten notes. Scripted into and obscured by scatological caricature drawings, language functions as mood enhancement in Aran's profiling universe. Nervously footnoting the display of two inkjet printout images of a young woman taking a smartphone picture of her own pregnant belly, ID photos of anonymous young men lurk nearby, diminutive cutouts of dogs counter with trusting smiles, and an assortment of work surfaces and relief studio fragments echo other possible characters. These half-life profiles are surrogate to one another as if understudies to an existential crisis that is never completely enacted, only mapped ou




Frances Stark, Addressing Bobby Jesus on My Knees, 2013, Matte laminated inkjet print mounted on aluminum, framed, Unique from a suite of 6, 47-1/2 x 35-3/8 x 1-1/4 inches, 120.015 x 90 x 3.2 cm

Similarly, the black and white photos on the wall in Frances Stark's photograph Addressing Bobby Jesus On My Knees, 2013, are arranged as if pictured on a storyboard, awaiting their deployment in the narrative just visible on the pad of paper in the image's foreground. Affect, gesture, and melodrama abound in Stark's work but the image interrupts and prevents the catharsis of plot and narrative denouement. As with Stark's comic video, My Best Thing, 2011, narrative is to be surrogate, substituted and untrustworthy, delinquent even. Everyone is both replaceable and worthy of being casted. Imbued with the pathos of possibly moving the storyline along or being summarily crossed out and never developed, Stark's typology of character is that of the scriptwriter plotting out demise and rebirth. Carter Mull's typecasting is left to compiling a more familiar catalog of ill-fated celebrities. Each work features a small celebrity headshot with playful and garish digital painting effects and numbers overcoming their picture perfect smiles. Séance for E, 2012, pictures a gleaming Elvis obscured behind glitch and corrosion. In quoting the writer Joan Didion's book of essays, The White Album, which chronicled her journalistic forays during the turbulence of the 1960s, Mull titled a recent exhibition with one of Didion's incisive passages. The quotation underscores an uneasy thirst for stories in American culture despite the conditions of an increasingly distracted world replete with surrogate experiences and personas: "We live entirely, ©, by the imposition of a narrative line upon disparate images, by the 'ideas' with which we have learned to freeze the shifting phantasmagoria which is our actual experience."

This learning to live entirely by and in spite of upload, download, stream, rip and share, to pry images back into shareable experience, back into language, back into objects, to speak for and live in another country, this is the "ought" that James speaks of, the "ought" of our inheritance and future.

––Fionn Meade


Footnotes
(1) William James, Principles of Psychology, (Dover Publications), p. 238
(2) Gertrude Stein, The Making of Americans, (Dalkey Archives Press), p. 289
Copryright Fionn Meade unless otherwise stated